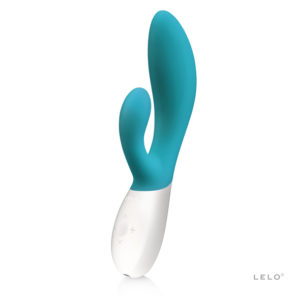 When a woman shops for things , she not only sees the functionality but also the look and design of the thing. Attractive and seducing things always pull women towards them. Same is the case for the shopping of vibrators and other sex toys. So Keeping in mind a woman's desire lelo has produced a range of visually appealing lelo vibrators and massagers. Also a great thing about these vibrators is that they are rechargeable , so you don't have to worry about batteries when you get some naughty feeling.
Lelo vibrators have come as a great revolution in the world of luxurious and fashionable vibrators for women. These vibrators on the first look are sure to attract anyone from young to old but at the same time would also give a feeling that what pleasure this small thing can give. If you think so than your totally wrong because the saying "Great things come in small packages" is perfect for lelo products. Lelo has developed a range of vibrators and massagers from which you can select depending upon your liking and desires of sensual pleasure. If you like just the clitoral stimulation or just the G spot stimulation than don't worry lelo has lelo iris , lelo gigi and lelo elise to satisfy just these stimulations. Some want the couple fun with massaging and nonpenetrative stimulations than lelo liv and lelo nea are just perfect for them. All the lelo vibes are extremely silent so no worries about neighbours knowing about your sensous night All these lelo vibrators come packaged in a gift box, along with a satin carrying pouch, a universal charger and 1 year warranty.
Types of Lelo Massager
Lelo Iris Pink Luxury Rechargeable Vibrator
Lelo iris is specifically designed for clitoral pleasure. In its petal pink color , this multitalented pleasure object not only looks graceful but also gives powerful and skilful pleasuring performance. Lelo iris has 5 stimulation programs which give deep and sensual rubdowns. Also this vibe gets charged in 3 hours for a 4 hour activity and upto 90 days on standby.
Lelo Gigi Luxury Rechargeable Vibrator
Lelo gigi is perfect toy for women who want a G spot stimulation. This small and ergonomical vibe is specialist in finding elusive and indulgent G-spot. Five pre-programmed pleasure modes and a virtually silent vibrator engine delivers deep and vibrant sensations with spot-on precision. Gigi requires a 1 hour charging to provide 1.5 hours of bliss.
Lelo Liv Luxury Rechargeable Vibrator
Lelo liv is for people looking for some alternative couple fun in bedroom. This lelo massager cranks up the pleasure for both him and her. The exclusive design and 5 programmed functions of this elegant toy are such that they give precisive tantalizing massage to erogeneous zones both , may it be clitoris, nipples and penis or deep pulsating vaginal penetration. Liv is same as gigi in terms of recharging.
Lelo Elise Luxury Rechargeable Vibrator
Lelo Elise has refined curves which are specially designed for female body. Elise can get you an all over stimulation with spine tingling accuracy. It has a powerful dual motor to tantalize all your erogenous zones. May it be clitoral , G-spot or all over stimulation elise would always be ready to give you the fantastic pleasuring sensations. This vibe is also easy to clean and safe because of the material used in its making. It runs for 90 minutes on recharge of 1 hour.
Lelo Nea Black Luxury Rechargeable Vibrator
Lelo Nea has a porcelain-like finish with floral decoration which gives a pleasing feel not only to eyes but also to touch. Nea's crafted design is made to fit body's most erogenous zones perfectly for total contact and all encompassing stimulation without penetration. Nea is an ideal introductory-level sensual companion and also a discreet centerpiece for the bedside table. This vibe when charged for 2 hours gives 9 hours of sensual pleasures and the standby time is upto 90 days.
Article Source: http://www.articlemarketing.org
Webmaster would present the information on lelo elise, lelo gigi and other rechargeable vibrators through the online adult sex toy shop in UK.