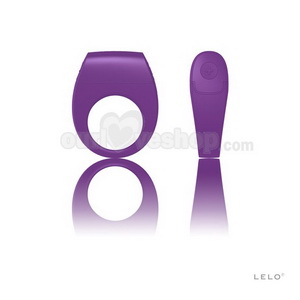 Through his intelligent and stylish design, Tor boasts something of a 'Sixth Sense' where a tiny microprocessor adapts the vibe according to his user's desire. Perfect for enjoying shared pleasures with your chosen partner, Tor can switch between six stimulation modes for the most empowering range of sensations. His comfortable and multi-purpose design also promises his wearer a more substantial presence and greater array of satisfying experiences. And if that is not enough, Tor also has the equivalent lifespan of around 10,000 disposable rings, marking him out as an investment of the most pleasurable kind.
Materials: ABS / body safe TPE
Finish: matte
Size: 56 x 45 x 20 mm
Weight: 25 grams
Diameter: 29 mm
Battery: Li-lon 70 mAh 3.7 V
Charging: 2 h at 5.0 V 500 mA
User time: up to 2 hours
Standby: up to 90 days
Frequency: 150 Hz
Max noise level: < 50 dB
Interface: variable speed buttons, 6 modes
As with all pleasure objects by Lelo, Tor is designed to offer total peace of mind in whatever situations arise. Made with FDA-approved and phthalate-free TPE/ ABS, he delivers up to 2 hours of near-silent vibrations after just a 2-hour charge, transferred through 6 adjustable stimulation modes. Tor is fully lockable and comes with a combined charger and storage unit to ensure discreet transportation at all times, arriving in an elegant gift box complete with charger, user manual and a full 1-year Lelo warranty.