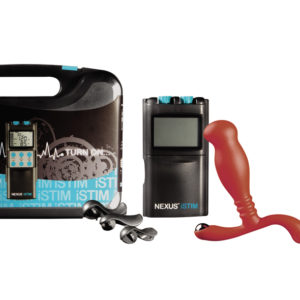 Nexus Plug 'n' Play pack marries one of Nexus' most popular prostate massagers, the Neo with the Nexus iStim Electro Stimulation Unit, giving users everything they need for a truly electrifying masturbation experience.
The iStim Electro Stimulation Unit has two separate channels meaning you can control the intensity and 7 modes separately, making it great for using with a partner or with compatible toys. As well as 4 self adhesive pads it comes with 3 Nexus toy attachments which when clicked into place will turn your prostate toy into an electrifying masturbation experience!
As well as the Neo, Glide, Titus, Excel and Vibro, the iStim unit is also compatible with the Nexus iStim C-Ring, also available from Nexus.
Note: colour of Neo prostate massager may vary