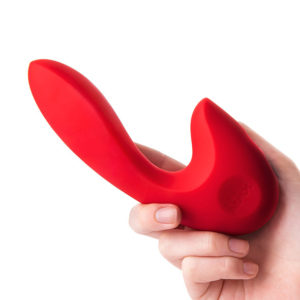 Heat up your intimate moments with SenseVibe Warm. Together with its thermal function, two motors for internal and external ecstasy, different vibrating modes, and sleek and hygienic charging case, SenseVibe Warm is the perfect package of pleasure and your new favorite toy.
Heated Vibe
Heat up your body with SenseVibe Warm by pressing the middle button on the vibrator for 3 seconds to reach a temperature up to 43 degrees. Preheat before using the vibrator or start using immediately. After 3 minutes, SenseVibe will have reached the perfect temperature for a steamy experience.
Tremble With Pleasure
Thanks to its ergonomically shaped flexible yoga neck and two motors for internal and external pleasure, SenseVibe Warm ensures clitoral and G-spot stimulation that is spot-on. Choose between 8 different vibrating modes and speeds, and experience the various waves of vibration that will make you tremble with pleasure.
New Design
In a world where vibrators always come in the boring same-shape-same-color formula, we decided that women deserve something more than just another pink pleasure object. We opted instead for an incredibly soft, modern looking design and high-tech product that is both aesthetically pleasing and functional.
Wireless Charging
Keep your vibrator away from prying eyes and awkward stares thanks to the discrete and hygienic charging box. Charge SenseVibe Warm by simply placing it in its box and connect the carrying case with the provided USB charging cable to your computer or the correct adapter.
Travel Lock
Worried about SenseVibe Warm accidentally turning itself on during the wrong moment? Just lock your toy by holding the plus and minus buttons simultaneously for 3 seconds and you can rest assured that SenseVibe is stored safely.
How Do I Clean My Vibrator?
As the seamless vibrator is made from safe medical grade silicone, using and cleaning SenseVibe Warm is a piece of cake. Clean your waterproof toy before and after every use with warm water.
Features
– Thermal Function up to 43°C
– Pre-heating Function
– Two Motors For Dual Stimulation
– Clitoral & G-Spot Stimulation
– Wireless Charging
– Discrete & Hygienic Charging Case
– 100% Waterproof
– Easy to Clean
– Seamless Design
– Silky Soft Surface
– Flexible Yoga Neck (36° Bend Angle)
– Travel Lock
– Simple 3 Button Interface
Vibrations
– 8 Vibration Modes
– 18 Speeds
Waterproof
– SenseVibe Warm: 100% Waterproof
– Carrying Case: Splashproof
Material
– SenseVibe Warm: Body-safe 100% Medical Grade Silicone, Free From Phthalates and Latex
– Carrying Case: ABS / PP
Charging
– SenseVibe Warm: Wireless Charging in Carrying Case
– Carrying Case: USB Cable
– Charging: 6hrs Wireless Charge at 3.7V 850mAh
– User Time: 2.5hrs in Medium Speed
– Standby: Up to 100 Days
– USB Cable Included (Adapter Excluded)
Size
– SenseVibe Warm: 160 x 71 x 36.5 mm
– Carrying Case: 176 x 87 x 49 mm
– Max Diameter: 34 mm
Comes with
– Hygienic Wireless Charging Case
– USB Charging Cable
– 12 Month Warranty
– Manual (EN/FR/DE/ES/JP/CN)