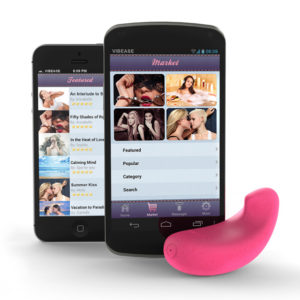 Everybody Has a Fantasy
Ready for something a little different? Vibease is a new, discreet sensual vibrator device. When paired with the state-of-the-art smartphone app, you have the power to take your personal Vibease experience to the next level.
Fantasy Comes To Life
1. Connect your vibrator to your iPhone or Android phone.
2. Select a fantasy story that suits your mood.
3. Put on your earphone and play the fantasy story.
Imagine listening to Fifty Shades of Grey with a hands free vibrator that vibrates in perfect sync with the audio fantasy. Your pleasure doesn't need to be solely imaginative anymore. It truly is an exciting new experience, full of anticipation. It's not about the end result. It's about the journey. The Vibease lets you enjoy every second of the journey all the way up until the exciting intense 'conclusion'.
Distance Doesn't Matter
Vibease Intimate app allows your partner to send custom vibrations from anywhere in the world. It doesn't matter if your partner is in the office or in another country, you can still have your intimate moments.
• Compatible with most Android phones and latest iPhones.
• Strong vibrations with customizable pulsations to provide as realistic an experience as possible.
• Rechargeable battery lasting up to three hours. The battery can be charged through USB.
• Waterproof and easy to clean.
• Can be used as a standalone vibrator in case you don't have your smartphone.
• Communicates with your smartphone via Bluetooth connectivity. Bluetooth 2.1 for the Android app and Bluetooth 4.0 (BLE) for the iPhone app.
Vibease is Wearable
Vibease, a comfortable, wearable vibrator. We allow women to slip it inside their undergarment whenever they want. The tip is specially designed to make it easy for women to locate the sweet spot while ensuring the vibrator remains steadily in place.
• Mandatory for complete immersive experience. You can relax and enjoy your moment.
• A 100% hands-free experience and your fingers will not get tired.
• Discreet. No one will know that you're having a good time.
Frequently Asked Questions
1. Which version should I get, iPhone or Android?
For long distance intimacy, this can be confusing. Get the vibrator based on the smartphone she is using. If she's using Android phone, get Vibease (Android), if she's using iPhone, get Vibease (iPhone). To control from long distance, you can use both iPhone and Android.
2. Does Vibease work with all Android phones?
Vibease works with Android phones with version 2.3 and onwards that have Bluetooth built-in. Technically, it can work with all Android 2.3 with Bluetooth, but Vibease realized that there is a chance where certain models might not work with Vibease due to the huge varieties of Android phones.
3. Does Vibease work with Android Tablets?
No, it doesn't work on Android Tablets.
4. Does Vibease work with all iPhones, iPods and iPads?
Vibease is using Bluetooth 4.0 (BLE) for the vibrator. For connecting the Vibease vibrator to iOS device, it ONLY works with iPhone 4S, iPhone 5 and later, iPod Touch 5th Generation and later, iPad (3rd gen & 4th Gen), and iPad Mini. However, all iOS devices with Internet connectivity will be able to connect to another smartphone remotely, and control the vibrator that is attached to that smartphone.
5. What is the maximum distance that Bluetooth can control the vibrator at?
The vibrator works within 3 meters from the smartphone. For long-distance remote control, the connection is made through internet between the two phones. For instance, Amy in San Francisco connects to her vibrator using Bluetooth. For John who is in New York to control Amy's vibrator, he has to setup a connection to Amy's phone over the internet through the Intimate app. As long as both phones have internet, distance doesn't matter.
6. Do you need the phone to be same models in order for the long distance to work?
No. Android devices can connect with iOS devices. Digital love is blind after all.