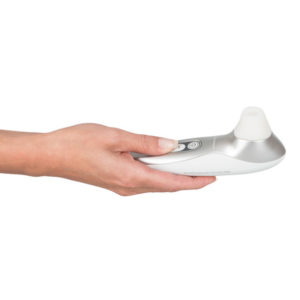 The new womanizer PRO40: the waterproof version of the classic model!
The Womanizer technology, which has nothing to do with a dildo or a vibrator makes contactless stimulation of the clitoris possible. It can now also be used under water! Put the glow-in-the-dark stimulation cap onto your pearl of pleasure when you are in the bath and feel how the clitoris gets gently sucked and then stimulated by the non-contact pulsating pressure waves. You will never want to do without the strong (multiple) orgasms, which you will experience over and over again, ever again! Your womanizer experience will be intensified when you use it under water because the pressure waves will feel even stronger! Turn on your womanizer Pro with the On/Off button. Then choose the frequency of the impulses that is right for you, from the 8 intensity levels (2 levels also have a whisper quiet mode), by using the Plus/Minus button. The womanizer will automatically turn itself off after approx. 30 minutes to avoid overheating. It can then be used again for 30 minutes, once it has cooled down.
Measurements: 160 x 45 mm
Material: ABS, silicone, phthalate-free according to EU Regulation REACH.
Rechargeable using the included USB cable and adapter.
Includes two caps (size of opening: 14 x 12 mm and 20 x 19 mm) and an instruction manual.
Intensive cleaning of the Womanizer PRO40:
1. Remove the silicone cap from the device.
2. Turn the device on and choose either the 1st or 2nd intensity level.
3. Put the device´s pressure chamber under the lukewarm running water for 1 minute.
4. Turn the device onto the highest level and shake the water out at the same time. Keep the device turned on until the sounds caused by the water can no longer be heard.
5. Put the silicone cap back onto the device.
6. Dry the outside of the device.
7. Your womanizer is now ready to be used again.