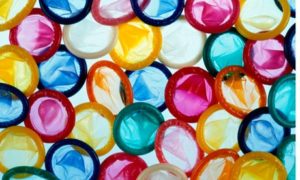 The world of adult toys is rather large and seeking to become larger all the time. Condoms have come a long way considering how old they are. One of the first references historians have made of condoms is 1000 B.C, in Egypt. They have for that long been a preventer of both pregnancy and disease. Only in recent times has the condom in some cases been elevated to the status of sex toy. Perhaps it is because the condom comes in glow in the dark color and flavors now. As far as the rest of the sex toy world goes, and this is a really big world now, the different sex toy are becoming too numerous to count.
Condoms as was said before are actually very old devices. Some of the first ones were designed and created with lamb intestines. They were better than nothing but far from effective or efficient and considering how they weren't exactly mass produced were often reused. There is some evidence still being investigated that perhaps a form of condom was used in ancient Rome. Today the use of condoms is almost taken for granted. They come in a number of sizes, just about every color under the sun and for the adventurous types there are those types available that glow in the dark. As if this weren't enough they now also come in flavors. Condoms can be purchased in the flavors of vanilla, chocolate, strawberry, orange, lime, banana, blueberry and cherry. This is far from the end; there are ribbed, raised nubs, spiral, and ultra smooth condoms available. No matter what the preference or occasion there seems to be a condom for it.
The rest of the sex toy world is filled with any and all variations that the condom didn't satisfy. Sex Toys can seriously be said to be just about anything we want them to be. Ice cubes, feathers, neck ties, whipped cream, candles and ping pong paddles can all be sex toys. Actually most people think of sex toys as dildos, dongs, vibrators, masturbators, edible gels and violet wands. Sex toys of late have been enjoying the new marketing media of the internet; sex toys have found their new home. No longer are they relegated to the cramped few lines at the back of adult men's magazines. They are now all bold and clear and ever present everywhere you go on the net. There are few things you can type into a search bar and not come up with a link somehow or other to a sex toy. Sex toys can include anything from the condom to realistic pussy, from butt plugs to anal beads, from S&M tools of the trade to spanking paddles for your naughty girlfriend. Sex toys can get pricey too, for example the "fucking machines" that can cost a few hundred to a few thousand dollars up to the love dolls that can cost upwards of $6000.
About the Author
Condoms have been around a very long time and to be brutally honest the first ones sucked; at least the new ones come in flavors. Sex toys in general encompass a world of different things some of which can cost more than your television and living room set combined.
Source: Article Bazar