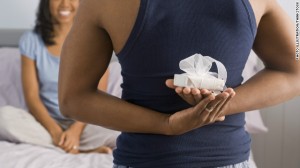 Author: Gallacher Lewis
Bringing sex toys into the bedroom is often a touchy subject. Countless couples avoid adding this extra boost to their sex life for any number of reasons – they feel that their significant other will be insulted, for example, or they're simply afraid to broach the subject of sex toys. But as difficult as it sometimes seems, dildos don't have to be distressing. Read on for helpful tips on how to amp up your – and your partner's – pleasure with sex toys.
Most people think of sex toys as solo instruments, but they don't have to be. If you use them with a partner, they can do double duty and help turn the good thing you've got going into something better than you ever imagined. But first, how do you even bring up the subject of bringing sex toys into the bedroom?
The most important thing for your partner to know is that the sex toy isn't going to replace them! It's simply there to enhance the experience. After all, sex is supposed to make you feel good; using sex toys is just a way to make it even better. So make sure your partner knows that no matter what toy you use, he or she is the most important factor in your sexual equation.
So when you're shopping for your toys, make sure you involve your partner – you want him or her to feel as much a part of the experience as possible. It's also important to buy top quality adult sex toys. If you're too shy to go to a store in person, online vendors like Buy Sex Toys (buysextoys.org) are great places to look. And most stores will carry everything you could possibly need, from dildos to vibrators to condoms and personal lubricants.
Once you've gotten your new sex toys home, the fun part starts: it's time to put them to use. Vibrators are among the most common and easiest toys to integrate into your sexual routine. If you'd like him to be a little harder and you'd like a little extra stimulation, try a vibrating cock ring. Even regular vibrators like bullets and eggs can play a part; just touch it to her clit or against the base of his penis during foreplay or sex and experience a whole new dimension to sex.
Sex toys are also great for showing your partner exactly what you need in the bedroom. You know you deserve those earth-shattering orgasms you have alone whenever you have sex, and if your partner isn't quite getting you there, it's time to show him or her how it's done. During foreplay, just grab a toy – vibrators and dildos are great here – and demonstrate exactly what gets you off. Your partner will appreciate the tutorial, especially when he or she takes over to give you that mind-blowing orgasm.
With sex, there's always something new to try, so don't be shy! Keep these tips in mind, and then get out there and buy sex toys for you and your partner to enjoy together. You'll never look back.
Article Source: http://www.articlesbase.com/clothing-articles/how-to-bring-sex-toys-into-the-bedroom-3703451.html
About the Author
Sex toys aren't just for your solo time. If you're looking for ways to take sex with your partner to a new level, Buy Sex Toys online to discover what you've been missing.