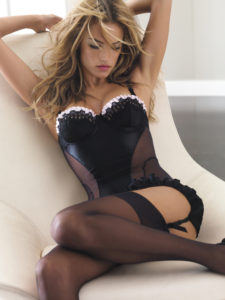 Holding daily stress at bay with a smile and a bubbly bounce in your step becomes effortless when you feel fabulous in your clothes. We've all experienced the rush of stepping out in that new suit or dress. If only the perfect new outfit were a possibility for every gal each and every morning! A more achievable way to tap into your beauty confidence magic on a daily basis is to simply know that you are dressed to impress underneath your clothes!
For a dose of every-day lingerie mood-boosting mojo try a matching bra and panty! There is a style for every frame, cup and derriere. For every style there is a seemingly limitless combination of patterns, fabrics and trims. Your matching bra and panty can be as unique as you are deep down. Are you really a silky tigress? Do you just feel kittenish today? Step into that exotic bra and panty set before you moderate your inner self with a yet another less than new, oh-so-tasteful selection in outerwear. So you've had the blouse for a few seasons and the skirt is just a dull, corporate appropriate colour… So what? You've got the exquisite feel of silk and stripes against your skin all day long. File your claws and hold your tail high as you stealthily make ready to pounce on your day!
Toss your pantyhose collection! Or at least tuck it neatly in the back of your lingerie drawer. You are about to exclusively wear stockings and garters. Yes, even under slacks. Tummy bulge is a very real concern, but the switch to stockings and garters you will leave you more aware of your posture. Tuck your tummy and sit up straight. Pull your shoulders back and away from your neck. Your spine and your waistline will thank you. And for the transitional times don't forget the redeeming properties of teddies featuring control panels! The idea is to feel good and sensual in your own body. If you don't address the causes of your insecurities you will never feel significantly better than you do right now. Let your inner light shine brilliantly! And for those gals with good bodies and a tiny, stubborn belly bulge – there is nothing wrong with you! Flat abs are lovely but so is a modest goddess bulge! For those who doubt the truth of this, look to Marilyn Monroe. Need I say more?
Another fun and any-day style lingerie boost can be had by wearing anything sheer under your clothing. A sheer bra and panty or a sheer slip, chemise or mini dress worn under your work clothes can cause you to have a constant and persistent awareness of how pretty you are even if you aren't displaying it fully. Pretty ladies smile all the time and smiles attract all kinds of possibilities, don't they?
Special occasions come with special undergarments. The fundamentals such as pantyhose, slips, bras and panties, camisoles, and so on receive a Cinderella upgrade for the day. You may find yourself wearing a corset or bustier, a strapless bra, a garter and stockings, a teddy, a richly made slip or chemise… And doesn't it make you feel wonderful? Ordinary and every-day underwear have no place under formal or evening wear certainly, but how would extraordinary lingerie worn under your work clothes feel? Like a secret you can barely keep? Like a smile you can't suppress? Like floating through your day inside of your own little patch of sunshine? Furthermore, how would it effect your evening and your time spent with your lover or significant other? Feeling good in your skin can give you a powerful charge. Eight or nine hours of "battery" reserve can excite your love life physically and emotionally. And bonus! You're already wearing something that will tantalize your partner's sensibilities!
You don't need to spend a lot to feel the magic of lingerie confidence! One of the most versatile and inexpensive options outside of the basic and every-day is the bodystocking. These are hosiery garments which extend from your toes to your shoulders. Some have sleeves, some merely have straps. Just like stockings and hose, the bodystocking is available in a wide variety of patterns, colours and opacities. Most bodystockings can be had for $20 (US) or less.
If you've never tried one before because it seemed an inconvenient or impractical garment, rest assured that very few bodystockings are manufactured with a crotch. In fact, it's rather difficult to find a bodystocking which isn't crotchless for purchase. It doesn't get much easier than that!
For an extra bit of naughtiness: try your next date in a bodystocking but without the panties. It will be difficult to keep your mind off of being intimate with your partner!
The tantalizing feel of fine spun hose can encase not only your legs but your midriff, chest and arms. And how much fun is it that what appears to be a tank or long sleeve shirt to the casual onlooker is actually part of your lacy, frilly, girly lingerie arsenal? Indulge your closet exhibitionist with a touch of hose in all the wrong places!
Confidence is a kind of magic that attracts positive experiences to you. Concentrating on having more confidence is a difficult way to actually experience confidence. It's much easier to affect a change by doing things that make you feel genuinely good such as a fresh new hair cut or donning inspirational clothes or underclothes. Indulging your sensuality through sexy, fun and expressive lingerie will give you confidence which requires no concentration to maintain. You will probably stand taller, move with greater grace and fluidity and attract smiles, attention and good will without even trying. Make a promise to yourself to work some confidence magic with lingerie today! Every woman deserves to feel fabulous! Life is just too short to be down on yourself and closed off to all of the wonderful possibilities this world has to offer you. Enjoy your life right now! — In addition to her freelance projects, Wynter Stark is a copyright writer for Touch of That Lingerie. A student of both fashion and life, her approach to both is all about the journey. Source: http://www.articletrader.com